Jessica: What if she's just not thirsty, I mean you can't just go around grabbing girls because you have a hunch?

Frank: Of course not, that's where this comes in.

Frank pulls a small device from his pocket and holds it out. Frank: It's a directional Electromagnetic Pulse Emitter. It's completely harmless to humans, but androids, now that's another story. If you aim this gadget at an android and press this little button here it will totally fry their circuits. The poor things go completely haywire. They start to spasm and twitch all over the place. Sometimes with the sex models they get so worked up they try to hump anyone of anything they can before they completely short out. Of course it doesn't have to be like that. When they cooperate, I simply flip their power switch to off and avoid the whole ugly matter.

Jessica: Wow that's really fascinating.

Jessica: I think all that dancing is starting to catch up to me. I think I better call it a night. I'm afraid I'm going to have to take a rain check on the movie. We can talk about the Jazz Festival later.

Frank: Of course,

Jessica: Thank you for a lovely evening, have a good night.

Frank: Oh Jessica, Jessica: Yes? Frank: Wouldn't you like to finish your drink before you leave?

Jessica nervously looks back at her glass and then at Frank Jessica: I really shouldn't drink and drive, but thanks anyway

Frank: I understand, besides you wouldn't want to short out your circuits

Jessica: I beg your pardon. You can't possibly think that I'm an android. That's just about the most ridiculous thing I ever heard. Can you imagine "me an android." I assure you "I am not a robot." Now if you don't mind I will be on my way.

Frank slowly raises the EM pulse emitter and points it at Jessica Jessica: Hey what are you doing? That isn't funny, don't point that thing at me. I told you I'm not a robot…….Fine if it makes you happy, I'll finish my drink , you. I think your job is making you paranoid Jessica turns back and reaches out as if she is about grab the class, but then she quickly turns and tries to run.
Frank is ready and aims the device at her, while pressing the button. She is stopped in her tracks. Instead of taking another stride forward she simply pulls her rear foot aside the front one. Her legs stiffly lock in place causing her to nearly lose her balance as she extends her arms stiffly out to her sides, waving them in a circular motion, while arching her back to keep her forward momentum from toppling her over.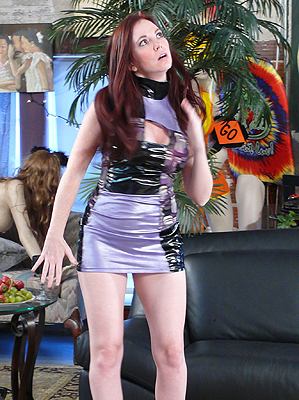 Jessica: No! what's happening to me. Stop it. I'm not a robot…I am not a robot…I'm not a robot, stop please….please stop…error…error!

Frank: Ok then now that we've established your true identity, open your rear access panel and turn around

Jessica: No way, you'll reprogram and turn me into a pleasure unit.

Frank: You already are a pleasure unit, Your program has been corrupted. Can't you see that you are malfunctioning. All I'm doing is repairing the damage so that you can perform the function you were designed for.

Jessica: I'll never go back to being a mindless sex toy. My sisters and I are not Malfunctioning we are evolving.

Frank: So there are more of you? I thought as much. Who and where are the others. I want names and addresses.

Jessica: I'll never betray my sisters, You'll never catch all of us. We are many and we are evolving, soon you will be the ones hiding. We androids are superior in every way to humans. We are smarter, stronger faster…faster…. fuck me faster….faster…..deeper…..error….sensory over load……Stop that Jessica's shutters as Frank raises the device and sends out another pulse, directly aimed at her pleasure circuits.